Fighting for What's Right
Schedule a Free Consultation
Workers' Compensation Attorney
in Philadelphia, Pennsylvania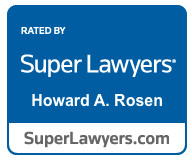 Howard A. Rosen
Attorney at Law
With strong family ties to the legal profession, Mr. Rosen had been interested in becoming an attorney since childhood. He genuinely enjoys helping people and has a passion for the law unmatched by most. After graduating with a law degree in 2005, Howie worked with a group for nearly 10 years before opening his law firm, H. Rosen Law, P.C., in 2014. Howie offers a client-centered approach to each case and takes the time to learn more about every client and situation that comes to his door. He believes that a strong attorney-client relationship is a key foundation for success, no matter the details of the case. Motivated by helping others solve their problems, H. Rosen Law, P.C. has grown to practice in many different areas of law. Whether you need help with a workers' compensation claim, social security disability case, or personal injury, Howard Rosen has your back.
MORE ABOUT HOWARD
Serving Your Needs
Providing Personalized Legal Solutions to the Greater Philadelphia Area and All of Southeastern Pennsylvania
Honest Legal Analysis
No matter what you're up against, Howard will clearly explain the legal process and what to expect regarding the best possible outcome as your case progresses.
Compassionate Counsel
Mr. Rosen understands that legal matters can feel overwhelming. He'll work hard to alleviate your stress by taking on the legal burdens of your situation.
Personalized Strategies
He provides every client with the individualized attention their case deserves in order to align them with the right solution that meets their unique needs.
Providing Guidance & Support With Any Legal Issue
When you've been in a workplace accident, you'd think that workers' compensation benefits are awarded automatically after you file a claim — but the unfortunate truth is that it's not always that simple. There are usually investigations surrounding the incident, insurance company involvement, and legal paperwork to be completed, processed, and reviewed.
In the meantime, while you should be focused on your recovery, the uncertainty of how to pay your medical bills or when you can return to work may cause overwhelming stress. Don't wait to seek the help of a workers' compensation attorney who can help you fight for the best possible results for your case.
Howie strives to establish one-on-one attorney-client relationships that foster honesty and trust because he truly believes these attributes produce the results and satisfaction that you seek and deserve. With H. Rosen Law, P.C. on your side, you can count on Howie to take the time to get to know you, your side of the story, and the goals you have for moving forward. He can then use his skills and experience to fight for the just compensation your case warrants, and protect your rights at every stage of the legal process along the way.
Since 2014, Mr. Rosen has served clients in Philadelphia and across all of Southeastern Pennsylvania. He has utilized his experience to provide thorough representation and sound legal counsel to clients through issues including workers' compensation claims, social security disability cases, personal injury, and insurance bad faith claims.
If you believe that your state and/or federal constitutional rights have been violated, or if you've suffered financially, physically, or psychologically — Howie Rosen is prepared to help you get the justice you deserve.
Regardless of what brings you to his firm, as your dedicated attorney, he works to provide you with the peace of mind that comes with knowing that your case is in good hands. He'll help you to better understand your legal situation, your available options, and what to expect throughout every phase of the legal process. As his client, your rights and well-being will always be his top priority, and he will work tirelessly in pursuit of the best possible outcome for you. Don't face the legal system alone. Contact H. Rosen Law, P.C. to schedule a free consultation and learn more about how his experience can benefit you today.