Workers' Compensation Attorney in Philadelphia, Pennsylvania
Mr. Rosen is certified as a specialist in the practice of workers' compensation law by the Pennsylvania Bar Association's Section on Workers' Compensation Law, as authorized by the Pennsylvania Supreme Court. With over a decade of experience serving clients in Philadelphia and across Southeastern Pennsylvania, Mr. Rosen is proud to specialize in workers' compensation law. He has spent years pursuing workers' compensation claims for people in Bucks, Chester, Lancaster, Delaware, Montgomery, and Berks County — and he'll passionately fight for the compensation you need as well.
Who is Entitled to Workers' Compensation Benefits?
Workers' Compensation benefits are available to all employees injured during the course and scope of their employment. Such employees are entitled to full medical treatment, and if the injuries cause an employee to lose wages, then his or her employer is responsible to pay wage loss benefits. If an employee suffers hearing loss, loss of vision, an amputation, a loss of use of a body part, or a scar on the head, face or neck at work, Workers' Compensation benefits are available.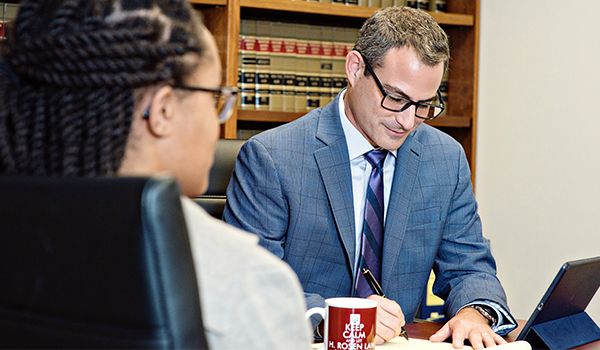 Benefits are also available to family members and heirs in the unfortunate case of death as a result of an incident at work. Workers' Compensation laws differ from state to state and the benefits available differ in Pennsylvania and New Jersey. Many factors come in to play to determine each individual's rights under the law.
Don't Wait. Get The Help You Need Today!
Suffering from injuries sustained on the job can be an extremely difficult challenge to overcome. The good news is, you don't have to face that kind of adversity on your own. At H. Rosen Law, P.C., we strive to utilize our experience and commitment to client satisfaction to achieve the kind of success our clients need and deserve. If you've been injured on the job in the greater Philadelphia area or across Southeastern Pennsylvania, don't wait. Reach out to H. Rosen Law, P.C. today to schedule a free case consultation. Together, we can pursue the compensation you need to recover from your injuries and get your life back on track.